A big thank you to the volunteers who helped out at last Sunday's FFBC-Bike Fremont free Bike Fixit Clinic at the Irvington Farmers Market! The clinic was a big success and we fixed at least 26 bikes!
It was great to meet a diverse range of folks from our community and help get their bikes back into safe and working order. We also let folks know about FFBC. Please see a photo montage below from the event.
In addition Fremont mayor Lily Mei stopped by the Bike Fixit Clinic and posted about it on her facebook page: Mayor Lily Mei Facebook
The clinic was organized by Wynn Kageyama.
There are plans for a tentative clinic on December 8th and if you're interested in volunteering as a mechanic or advocate please let Wynn know.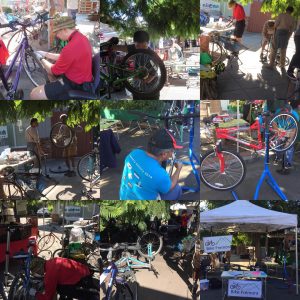 Best,
Julliette Johnson
1,195 total views, 2 views today