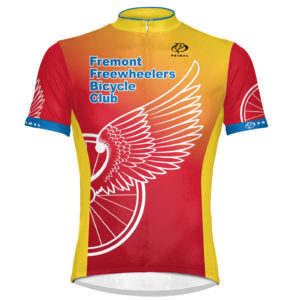 Club Clothing
Ride with pride in our jerseys, wind vests, jackets, arm warmers & headbands. Contact Club Clothing Coordinator Terri Yi. Clothing is also available at the monthly club meetings.

Primavera clothing
There is still a limited number of jerseys and socks left over from our cancelled April, 2017 event. If you are interested order now.
Pricing:
Club members are entitled to discount jersey pricing: $50. Non-members are $55.
Club meeting pickup for members; Non-member items will be shipped.
Socks are: $10.
We have a limited stock available so place your order quickly:
Mens: 7 Large, 5 X Large, 1 XX Large and 1 XXX Large
Womens: 2 Medium, 2 Large
For Sizing Guide: click Here for Jersey and Here for Socks.
To order, do the following:
Email to Terri Yi, our clothing manager: Include your name, address, contact info, whether you are a member and item(s) desired.
Our clothing manager will respond confirming availability
You then make payment via PayPal to our PayPal Account: treasurer@ffbc.org . Or pay by check by sending it into: FFBC Clothing Sales, POB 1868, Fremont, CA 94538. Make the check out to "FFBC".
You will be notified when the payment is received. If you are a club member you will be notified as to what club meeting to pick up the items. If you are a non-member the items will be shipped to you.