Join our rides, members and guests alike.  Riding with a group is fun, educational, supportive, and safer.
Use the ride calendar, to find the ride that fits your schedule and your ride-pace.
Note:  it may take a couple of rides to figure-out which ride-pace is right for you.  That is okay.
Our ride routes cover several locations around Fremont (7 different cities and beyond)
Guests – after experiencing a ride or two or three, join us and become a member – we welcome you!
What is a "show-and-go" ride?
A ride on the calendar without a ride leader because …

The ride leader opted out (via email) because of poor weather or air-quality (or less common, something else)
This particular ride did not have a member volunteer to become a ride leader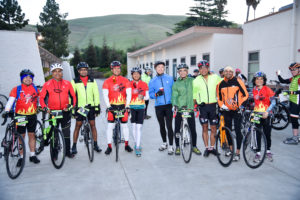 FFBC Policies
Rev. March, 2022
FFBC's rides are meant to be fun and safe.   They also must conform to insurance requirements.  Accordingly, these policies clarify expectations for riders, ride leaders, equipment and rides.
Riders
Members
Are those who are current on their dues or have had their dues waived (e.g., by being lifetime members)
Guests
Include anyone who is not a current member
Must sign in as guests
Are only covered by FFBC's supplemental medical insurance for their first ride in a calendar year
May NOT join mountain bike rides due to insurance restrictions
Minors
Minors under age 16 are allowed on all FFBC road rides if accompanied by their parent, legal guardian, or an adult designated in writing and signed for by their parent or legal guardian. The parent or legal guardian should also complete and sign a consent form and present it to the ride leader at the start of the ride.
Minors, age 16 or 17, are allowed on all FFBC road rides without their parent or guardian if they bring the consent form signed by their parent or legal guardian and present it to the ride leader at the start of the ride.
Minors are NOT allowed on any mountain bike rides.
Equipment
Bikes must be in good working condition: tires inflated, brakes and derailleurs working
Cycling helmets that are in good condition and certified to meet CPSC standards must be worn with snug chin straps at all times while on the bike
e-Bikes
Class 1 and Class 3 e-bikes are allowed on all FFBC rides, except where the ride passes through areas where the e-bike is prohibited by local regulations and an alternate route is not made available by the ride leader. Class 1 and Class 3 e-bikes require pedaling and have pedal assist up to a max of 28 mph.
Class 2 e-bikes and mopeds are NOT allowed, even if operated in pedal assist mode.  These bikes have a throttle that is capable of propulsion without pedaling, and they are not covered by FFBC's liability insurance.
Rides
Club Rides
Must be listed on the FFBC calendar or announced on the FFBC message board
Require a ride leader who must be an adult (18+) club member (Show & Go riders must "elect" a ride leader at the start)
Require at least one rider besides the ride leader (i.e., club rides require a minimum of 2 riders)
Require all participants to sign in via a sign-in sheet
Leave the starting point 15 minutes after the posted time
Convert to "show & go" if canceled by ride leader
If "co-listed" with another club, must adhere to all FFBC rules
Gravel Rides
Mountain Bike Rides
Are allowed for members only, not guests, not minors, due to insurance restrictions
Use mountain bike specific sign-in sheets [provide link]
Ride Classifications
For riders to choose rides suitable to their interests and abilities, the club has ride classifications.
For Road Rides, a pace appended with a "+" or "-" means the pace will be 1 mph faster or slower, respectively.  For example, an "M+" means a pace of 14-17 mph, and a "B-" means a pace of 15-18 mph.
Ride Posting
Club Rides must be posted to the FFBC calendar at least three calendar days ahead of the ride or, if within three calendar days, to the 'Info' email list at least one calendar day prior to the ride. Rides requiring changes within three days of the ride should be updated on the 'Info" email list as soon as possible.  The ride posting should include start location, meet and roll times, pace, terrain, route if available, ride leader contact information, and a brief description of the ride.
Ride Leaders
Must be a FFBC member who is an adult (18+)
May, via their ride postings, exclude
Unvaccinated individuals
E-bikes when not allowed on routes by local authorities (e.g., East Bay Regional Park trails), but not otherwise
Must receive prior approval from the Board for any other rider exclusion posting (e.g., men only, women only, no ebikes, etc.)
May post reasonable limits on the number of riders to be allowed on a club ride
May reroute, delay, reschedule or cancel rides their for any reason, including actual or significant chance of rain, extreme temperatures, poor air quality and road closures
May, at the start or during the ride, exclude riders for:
Not having a bike in good working condition
Not having a bike suitable to the ride (e.g., road bike on a mountain bike ride)
Not wearing appropriate equipment (e.g., helmet)
Failing to ride safely or otherwise disrupting the ride (as determined by the ride leader)
Substantially deviating from the ride's posted route or pace
Must submit the sign-in sheet to either the Pedal Pounders Coordinator for entry into the Pedal Pounders database or the Race Team for the Race Team's document archive.
Must submit an Accident Report online [link] in the event of an accident during the ride.
Pedal Pounders
"Pedal Pounders" is FFBC's ride database. It allows members to compare their statistics from the current year to prior years and other club members.  FFBC uses these statistics to honor members for their outstanding accomplishments.
Eligibility
Only FFBC club members may receive Pedal Pounder credits.
To receive Pedal Pounder credit, a sign-in sheet must be submitted either by email or mail by the ride leader no later than sixty (60) days after the ride or seven (7) calendar days after the end of the calendar year, whichever comes first
A ride leader will receive ride leader credit if listed as the first rider on the sign-in sheet.  Co-ride leaders will receive credit if the sign-in sheet has "RL" in the margin next to their names.  Individual riders will receive ride credit if their names on the submitted sign-in sheet are legible.
Pedal Pounder credit will also be given if the Ride Coordinator accidentally omitted a ride from the calendar.
Metrics & Honors
Pedal Pounder metrics include rides led, rides ridden, miles traveled and feet climbed.
Ride leaders must submit sign-in sheets that reflect actual club miles and feet climbed during the ride.  If the ride leader modifies a ride due to weather, road conditions, rider issues, etc., the rider leader must use the actual club miles and feet from the ride.
Based on statistics compiled from eligible sign-in sheets, the Ride Coordinator will award the club's major Pedal Pounder honors:
Most Rides Led
King of the Wheel:  Most miles traveled by a male rider
Queen of the Wheel:  Most miles traveled by a female rider
The Ride Coordinator may also issue discretionary, special awards based on statistics compiled from the Pedal Pounders data.