Club Rides this Week
For a list of upcoming club rides, see the ride calendar.
FFBC Board & General Meeting
Board Meeting
Second Tuesday of every month, 6:30 P.M.
General Meeting
The General club meeting is held in January, March, May, August, September, November.
Second Tuesday of the month, 7:30 p.m.
For now all meetings are held on Zoom. When we go to in-person the meetings are held at the Fremont Adult School (Room N6):
4700 Calaveras Ave
Fremont, CA (map)
Primavera Century
2024 ride is scheduled for April 21, 2024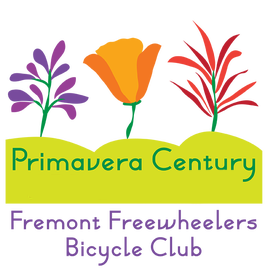 The Primavera Century is a club-supported bicycle tour of the local area. The event is typically scheduled in April.  Check the Primavera Century link for details. Check out the Primavera Facebook page for photos and more!
Progressive Ride Series
The Progressive Ride Series is designed to get riders in condition to do a full century. This series starts in mid-January with shorter and flatter rides and gradually builds up to a full century, which is the Worker's Ride in April following the Primavera route. Rainouts will not alter the schedule of the series. The emphasis is on an M pace, which will be offered for each ride. Other paces may or may not be supported; check each ride description in the calendar for full details.