Until Further Notice
All club events are suspended or canceled until shelter-in-place orders are lifted.
Stay safe, wash hands often!
Club Rides this Week
SUSPENDED – For a list of upcoming club rides, see the ride calendar.
FFBC Board & General Meeting
Board Meeting
Second Tuesday of every month, 6:30 P.M.
General Meeting
The General club meeting is held in January, March, May, August, September, November.
Second Tuesday of the month, 7:30 p.m.
Meetings are held at the Fremont Adult School (Room N6)
4700 Calaveras Ave
Fremont, CA (map)
Primavera Century
2021 ride is scheduled for April 18, 2021 (assuming these types of rides can be held in Alameda County then)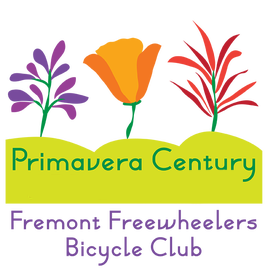 For more than 40 years FFBC has been the proud sponsor of the popular Primavera Century. The Primavera is a club-supported bicycle tour of the local area. The event is typically scheduled in April.  Check the Primavera Century link for details. Check out the Primavera Facebook page for photos and more!
Progressive Ride Series
The Progressive Ride Series is designed to get riders in condition to do a full century. This series starts in mid-January with shorter and flatter rides and gradually builds up to a full century, which is the Worker's Ride in April following the Primavera route. Rainouts will not alter the schedule of the series. The emphasis is on an M pace, which will be offered for each ride. Other paces may or may not be supported; check each ride description in the calendar for full details.
Cinderella Training Rides
Every year the FFBC runs the Cinderella Training Ride Program. This weekly series of rides is designed to encourage women to learn to ride a bicycle safely in groups and to develop the skills needed to successfully complete the Valley Spokesmen's Cinderella Classic. These rides are open to all and have something for all levels of cyclist.
1,934 total views, 3 views today