The 47th Annual Primavera Jersey and Socks
Due to vendor lead-times clothing can no longer be ordered on-line.

However a limited number of Jerseys and Socks will be available for purchase on the day of the event at Check-in. Some Jerseys, Arm warmers and Socks will also be available from prior year Primavera events.
General Note and Disclaimer: Artwork may look slightly different, depending on size ordered (more or less of the pattern will be visible). The pictures may not show it well but the sock colors match the jersey colors. For reference colors are: Burnt orange and light orange, Pthalo blue, Cerulean and Aqua.
Jersey: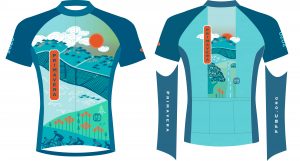 Click image for full-size view
 Click Here for Jersey Sizing chart.
The 2020 Primavera jersey is $65 per jersey. Due to lead-time constraints jersey orders are now closed. Jerseys will be available for pickup at MSJHS on Primavera event day .
Socks: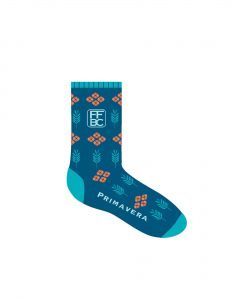 Click image for full-size view of socks
Click here for Socks Sizing Chart.
Socks are available for $10 per pair.
Commemorative Patch:
Picture of Patch will be available soon.