The 47th Annual Primavera Jersey and Socks
You will be able to order a gorgeous jersey, socks, or commemorative patch during the registration process.
If you are a Primavera Rider who decided

after

you registered that you'd really like to order a jersey, you can do that by clicking  HERE.
FFBC club members go to Fremont Freewheelers Club Website for Club pricing.
General Note and Disclaimer: Artwork may look slightly different, depending on size ordered (more or less of the pattern will be visible). The pictures may not show it well but the sock colors match the jersey colors. For reference colors are: Burnt orange and light orange, Pthalo blue, Cerulean and Aqua.
Jersey: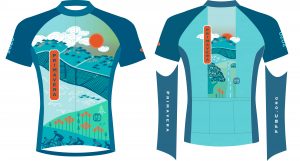 Click image for full-size view
 Click Here for Jersey Sizing chart.
The 2020 Primavera jersey is $65 per jersey. Orders/payments must be received by February 16, 2020. Jerseys will be available for pickup at MSJHS on Primavera event day .
Socks: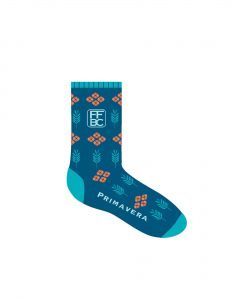 Click image for full-size view of socks
Click here for Socks Sizing Chart.
Socks are available for $10 per pair.
Commemorative Patch:
Picture of Patch will be available soon.