Club Rides this Week
For a list of upcoming club rides, see the ride calendar.
FFBC Board & General Meeting
Board Meeting
Second Tuesday of every month, 6:30 P.M.
General Meeting
The General club meeting is held in February, April, June, August, September, and November.
Second Tuesday of the month, 7:30 p.m.
Meetings are held at the Fremont Adult School (Room N6)
4700 Calaveras Ave
Fremont, CA (map)
Primavera Century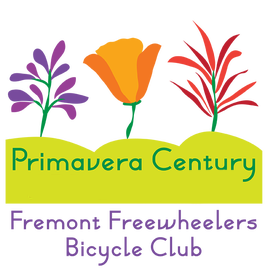 For more than 40 years FFBC has been the proud sponsor of the popular Primavera Century. The Primavera is a club-supported bicycle tour of the local area.The event is typically scheduled in April.  Check the Primavera Century link for details. Check out the Primavera Facebook page for photos and more!
Progressive Ride Series
The Progressive Ride Series is designed to get riders in condition to do a full century. This series starts in mid-January with shorter and flatter rides and gradually builds up to a full century, which is the Worker's Ride in April following the Primavera route. Rainouts will not alter the schedule of the series. The emphasis is on an M pace, which will be offered for each ride. Other paces may or may not be supported; check each ride description in the calendar for full details.
LAP Rides – Better Than Ever!
The Less Aggressive Progressive (LAP) ride series is back for its sixth year and it's going to be better than ever!  Not only will you train for a metric century by cycling ten weekly routes, that get progressively longer with more climbing, but you will do it with a fun group of people!  If you've ridden the LAP series in the past and found the last rides in the series a little too hard, then you will like the changes we have planned:
New scenic routes,
Reduced total climbing to 3,000 ft on later rides, down from previous years' maximum of 3,600 ft.  (Whew!)
No skipped rides in the series, causing large jumps in mileage/climbing week-to-week, due to forced rain-outs.  If a ride is canceled due to rain, most likely we will move the route to the next week on the FFBC club calendar.  Check your yahoo group email for updates or contact us.
The LAP series has less elevation gain and climbing than the traditional FFBC Progressive Series and is aimed at Touring/Moderate pace riders (especially those that climb at a slower pace).  PDF versions of our Excel route sheets will be sent out via email to FFBC's Yahoo Group a few days before each ride.  The link to the route on ridewithgps.com is available for downloading but any route sheet generated from the link is for information only and does not have listed regroups.  We ask that you print the PDF version and bring it to the ride.
Cinderella Training Rides
Every year the FFBC runs the Cinderella Training Ride Program. This weekly series of rides is designed to encourage women to learn to ride a bicycle safely in groups and to develop the skills needed to successfully complete the Valley Spokesmen's Cinderella Classic. These rides are open to all and have something for all levels of cyclist.
The 2019 Cinderella Classic is scheduled for Saturday March 30. The training program will start in early January.